Your family doctor always near you
Access to a family doctor and internist even on the same day

Innovative combination of clinics
and mobile app

Medical care for free, no additional fees on the National Health Fund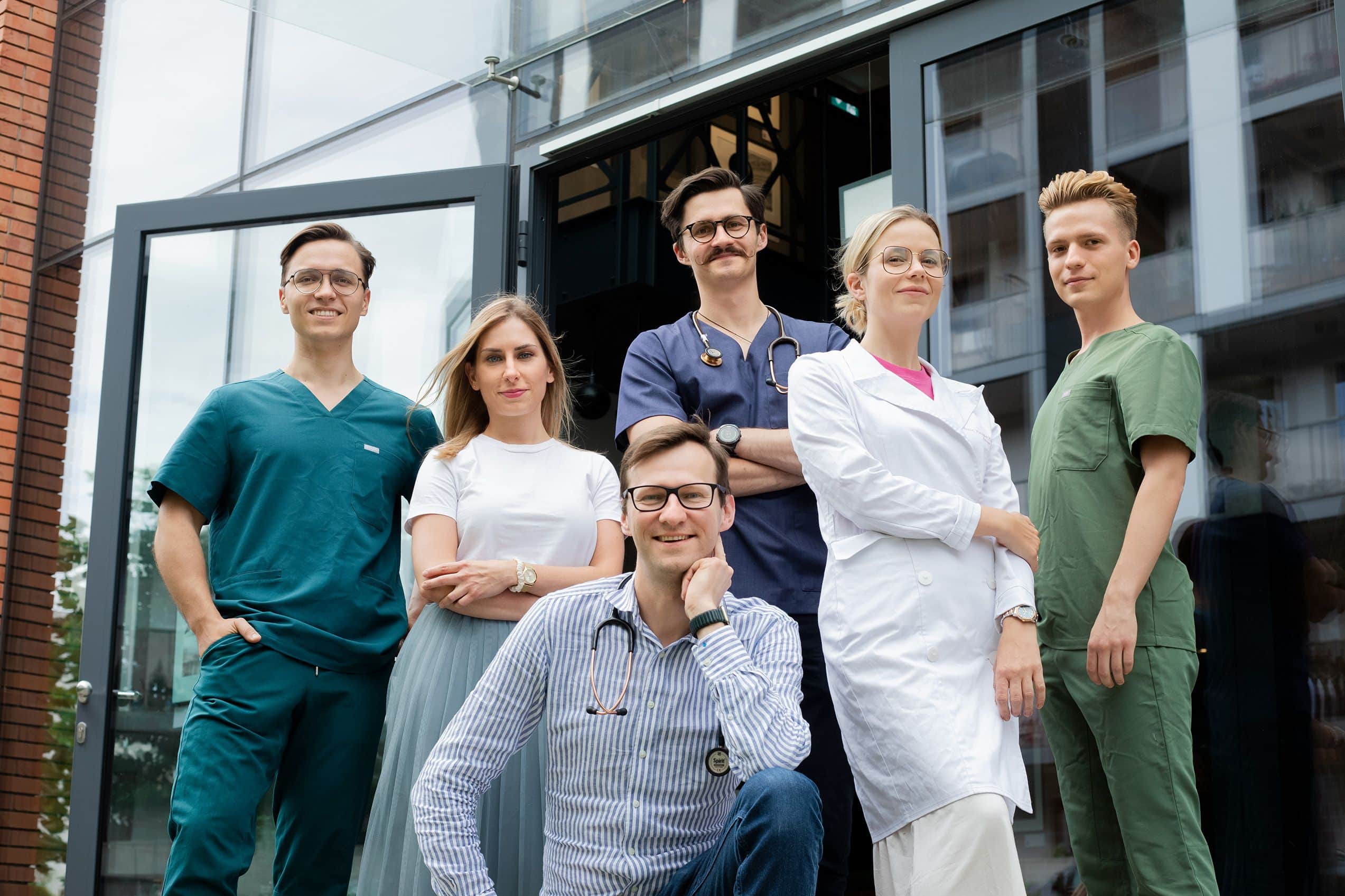 Nieprzeczytane wiadomości
Jutro Medical
Thank you for your interest in the Jutro Medical clinic!
7 sierpnia, 8:41

Robert Sadowski
Good morning. I have problems with constipation and my stomach hurts after eating :(
7 sierpnia, 8:41

Adam Gałczyński
Good morning. How many days or weeks, have you been experiencing these symptoms?
7 sierpnia, 8:43
We will be with you in health and sickness.
An appointment online or at the clinic
Thanks to the app you can get medical advice without leaving your home or schedule an appointment at the clinic.
Click "Sign up" and choose the
reason why you would like to
contact our medical team.


Sign up

Select your preferred type of visit:
telemedically or in the facility
and choose a convenient date.

Get a prescription, medical
leave slip note and a referral

All prescriptions, referrals and medical leave
slip notes issued during the consultation will
be stored in the app.
This is worth knowing!

How to register in the app?

You can create your account and file the declaration immediately after installing the application. When creating an account, it is necessary to provide your own phone number, e-mail address and accept the Terms and Conditions of Jutro Medical. Then, your phone number will be verified by entering the code you will receive via SMS.

If you manage to successfully create an account in our application, you can proceed to the submission of the declaration! You can submit the declaration in person at the Jutro Medical clinic or remotely via ePUAP, so you don't even have to leave your home!

How can I make an appointment for an online consultation?

Go to the "Consultations" tab and click "Make an appointment". Pick the time of the appointment and… That's it!

What are the operating hours of Jutro Medical?

The medical team is available at your service from Monday to Sunday from 9am till 9pm - online. You can find our facilities opening hours here.

Is making an appointment free of charge?

Yes. The services we offer are all covered by the National Health Fund, so they are free of charge. At Jutro Medical you can consult your problem and receive an e-prescription for free.

How can I make an appointment for a personal visit in the facility?

Go to the "Consultations" tab and click "Make an appointment", then choose "In the clinic". Pick the time of the appointment and… That's it!

Women's health at Jutro Medical

We know that women have special medical needs. As primary care physicians, we are trained in many different fields of women's health and we can deliver various services equivalent to those provided by your gynecologist - thanks to that the number of doctors you need to see for routine check ups is limited. We can renew your prescription for contraception and prescribe the "morning after" pill. We can diagnose the problem of painfull periods and refer to proper treatment. We are at your service in all matters that bother you.

LGBT+ Health

We believe that everyone should have access to free and comprehensive healthcare regardless of sexual orientation or gender identity. We're here to help you feel your best — physically and emotionally.
What does Jutro Medical offer you?
Appointments on the same day, test results in the app... and many,
many more under the National Health Fund insurance. Taking care of
your health has never been never easier.
Make an appointment with one of our doctors!
Our team consists of family doctors and internists.
We are also supported by medical assistants and qualified nurses.
Your health is closer than you think
Find a clinic closest to your location. Take care of your health today.
"I believe that people don't have to suffer from diseases that can be prevented"
Adam Janczewski
CEO Jutro Medical
Find out what health care of the future looks like
We take your well-being seriously. We will not only help you manage your medical problems, but also equip you with the knowledge and advice you need to make positive changes for your health.
A healthy dose of information
Subscribe to our Newsletter and receive information about events and medical tips.
Jutro Medical is a medical entity listed in the national registry.
Read more
All rights reserved by Jutro Medical Sp. z o.o.